Doughty Street Chambers – 54 Doughty Street, London, WC1N 2LS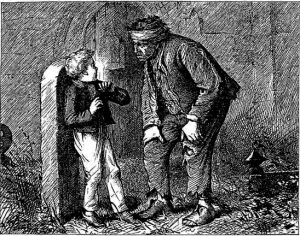 "Dear boy and Pip's comrade. I am not a-going fur to tell you my life, like a song or a story-book. But to give it you short and handy, I'll put it at once into a mouthful of English. In jail and out of jail, in jail and out of jail, in jail and out of jail. There, you got it. That's my life pretty much, down to such times as I got shipped off, arter Pip stood my friend."

Great Expectations is the first in a series of seminars presented by Andrew Sperling and SL5.
This seminar is held in conjunction with The Association of Prison Lawyers and Doughty Street Chambers.
The Parole Board will be fifty years old in 2017. A new Chairman, Nick Hardwick and CEO, Martin Jones, were appointed earlier this year. New members are being recruited for the first time in five years.
What does the future of the Parole Board look like?
What expectations should prisoners and the public have for the Parole Board?
Great Expectations will be a forward-looking discussion event with expert speakers from a range of different backgrounds:
Andrew Sperling is a Legal and Policy Consultant and Parole Specialist.  He was a founder member of the APL and APL Chair between 2010-2013. He was commissioned by the Parole Board to work on governance and stakeholder projects during 2014 and 2015.
Feedback from the event:
"I found it a very interesting and worthwhile event, with a lot of good insights into issues which I deal with in my practice. Thank you for organising it"
"Event was very useful and I went away feeling quite positive with the way in which the Parole Board are hoping to develop and move forward. They clearly seem to recognise the deficiencies within the system and hopefully will have the support to rectify these in due course. It was interesting to note that the Parole Board are not averse to transferring under the umbrella of HMCTS – something which I believe would be a good thing."